The Summit RCSe client is supported on over 50 devices and counting across 10 different device manufacturers. Whether the device is an entry-level smartphone or the newest tablet, we likely support it. The Summit RCS stack is available on Android, iOS, Windows, Linux and several other platforms. Beyond the standard RCSe feature set, we include support for all the extras such as Social Presence, vCard and Location Share, multi-device registration, layout orientation, auto-adapting UI based on service discovery and device specific customizations. After all, user experience is everything.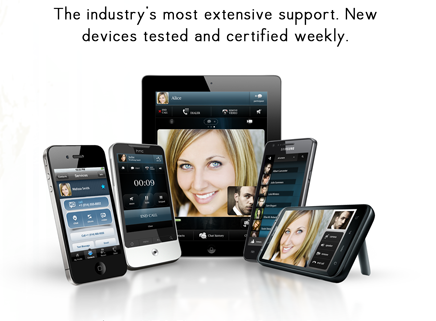 Acer Liquid mt • HTC EVO • HTC Desire, Desire HD • HTC Thunderbolt • HTC Wildwire, Wildfire S • HTC Legend • HTC Rezound • HTC Nexus One • HTC Pyramid • HTC Sensation • HTC Raider • HTC One X • Blu Rave • Dell Streak • Samsung Stealth V • Samsung Galaxy S, Galaxy S2, Galaxy S3, Galaxy Mini, Galaxy Gio, Galaxy Note • Samsung Infuse • Samsung Nexus S • Samsung Captivate • Motorola Defy • Motorola Atrix • Motorola Razr • Sony Ericsson Xperia Arc, Xperia mini pro • Sony Xperia S • iPhone 4, 4S • LG Optimus 3D • LG Optimus 2X • LG Hub • Huawei Blaze/Ideo • Panasonic Eluga • Vodafone 858 ...and many more devices, including tablets, set-top-boxes & PCs.

View the latest list of supported RCS devices

Summit's RCSe client was developed using Summit's IMS SDK, a client stack which has been tested and trialed for over 7 years. The Summit RCSe joyn client was the first to be deployed on a tier 1 production network and the first client to attain GSMA accreditation. Because of our extensive experience with IMS & RCS across varying vendor and operator implementations in Europe and North America, you can be certain your version of the client will be ready and capable of various combinations and unique blends of RCS features available in RCS, 2, 3, 4 and yes, even RCS 5, including VoLTE and VoHSPA (IR.92, IR.58 and IR.94).


The industry's first accredited RCSe client, Summit's suite of RCS clients were developed from the ground up to be fast, reliable, secure and more importantly easily adaptable to evolving RCS specifications. Regardless of whether the platform provides hardware accelerated codecs, we supplement media capabilities by offering our own highly optimized implementations - ensuring crystal clear audio and video even on entry-level devices. Coupled with a stack meticulously optimized for memory use and battery consumption, the result is a solution which surpasses the industry's competing OTT implementations in features, performance and reliability!
Live demos of RCS Android & iOS smarthphones & tablets, desktop clients and our new HTML 5 RCS Client / Web Gateway.

To learn how you can get certified RCS-e solutions to market, schedule a meeting with Summit Tech by visiting us at stand 9 in the exhibition area of the conference. IMS World Forum 2012, Madrid Spain at the NH Eurobuilding, April 24th-26th.